Freediving Liveaboard Thailand
26.04 – 30.04 2022
4 DAYS AND 4 NIGHTS EXPERIENCE
ANDAMAN SEA
Similan and Surin islands
Beds: Double bed
Cabin Facilities:
*Air conditioning
*Window
*En suite bathroom
*Plug socket
*Hot water shower
*Fridge
*Shelves
*Reading lights
Beds: Double bed
Cabin Facilities:
*Air conditioning
*Window
*Plug socket
*Fan
*Cupboard
*Shelves
*Reading lights
Beds: Bunk beds
Cabin Facilities:
*Air conditioning
*Window
*Plug socket
*Cupboard
*Shelves
*Reading lights
Price for accommodation is per person.
All options include Freediving Liveaboard with 
4 days/4 nights accommodation, full board and unlimited  freediving.
MV Andaman is a comfortable 3 deck vessel that can take up to 20 customers.
There are two 6-bunk cabins for divers on a budget. These air-conditioned cabins have sea-view windows, and each bed has a privacy curtain. 
At the front of the boat, there are two double bed cabins, which are possibly the best-value double cabins on any Similan liveaboard diving boat. 
At the rear of the 'cabin deck' are two more double-bed cabins, but these have their own private en suite bathrooms.
The boat has 2 sun-deck and a shaded common area.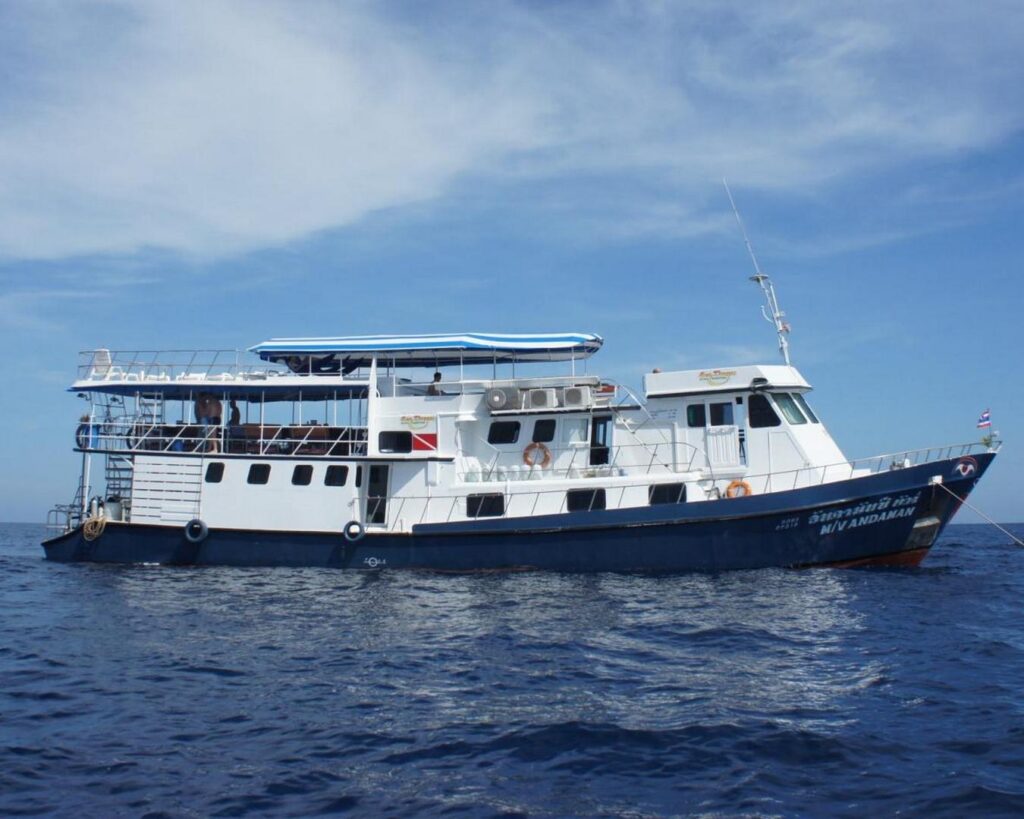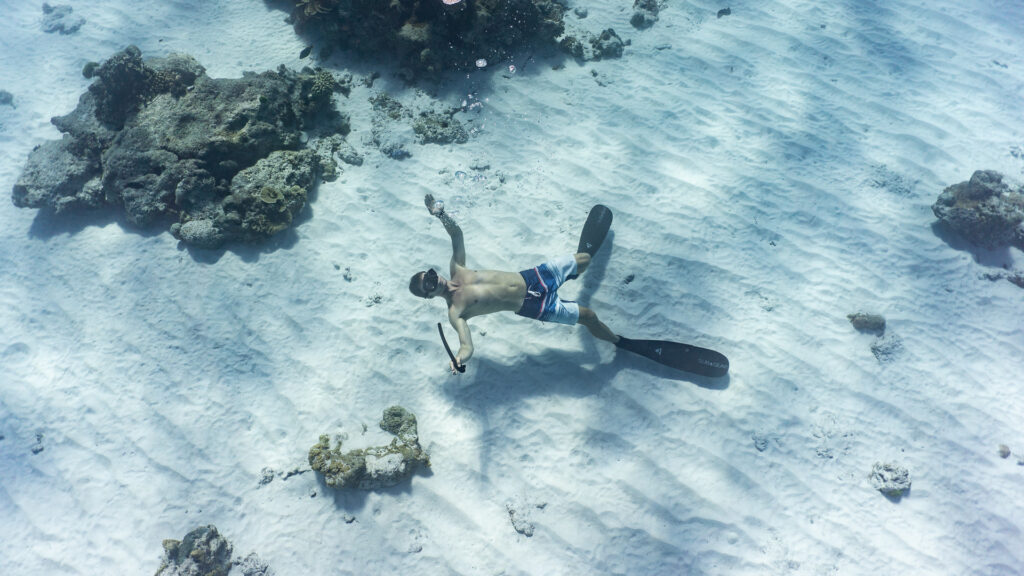 Experience the beauty of the North Andaman sea on a single breath, on this FREEDIVING ONLY liveaboard.
Made by freedivers for freedivers.
Under supervision and guidance from experienced and accomplished coaches. Whether you have just recently discovered freediving or are a seasoned veteran of the sport, our pro coaches have years of experience to help you improve your freediving skills. 
Start your freediving with the basic course or improve your skills during personalized coaching sessions.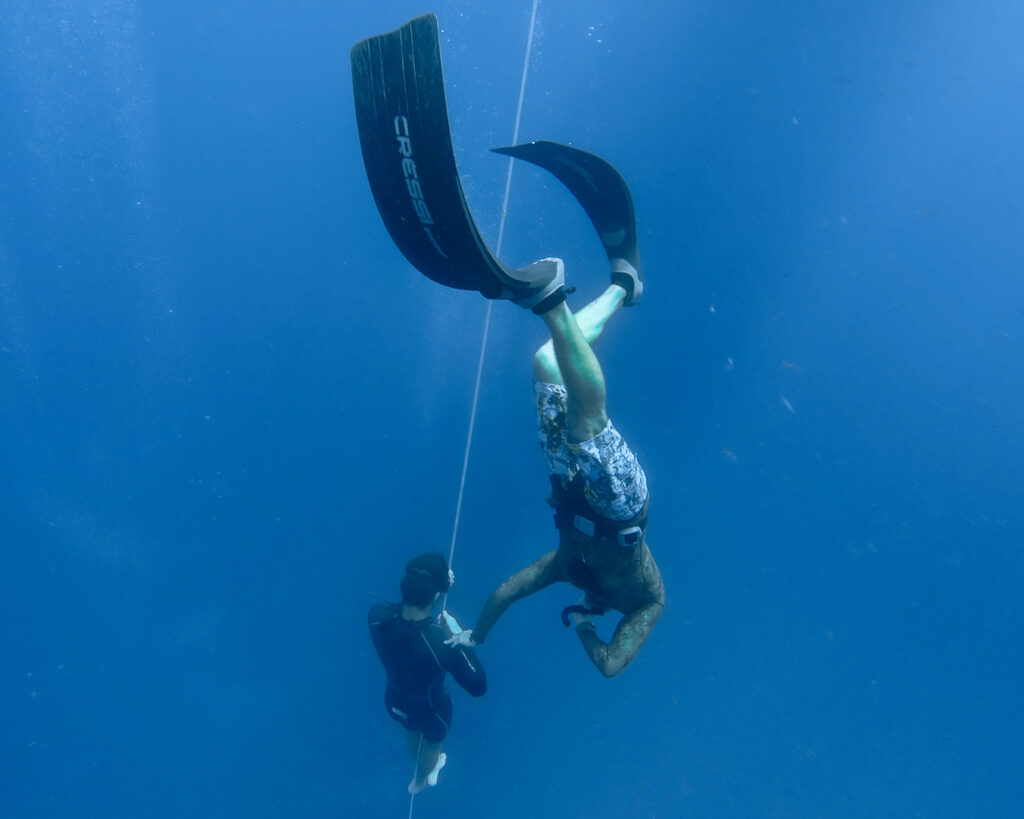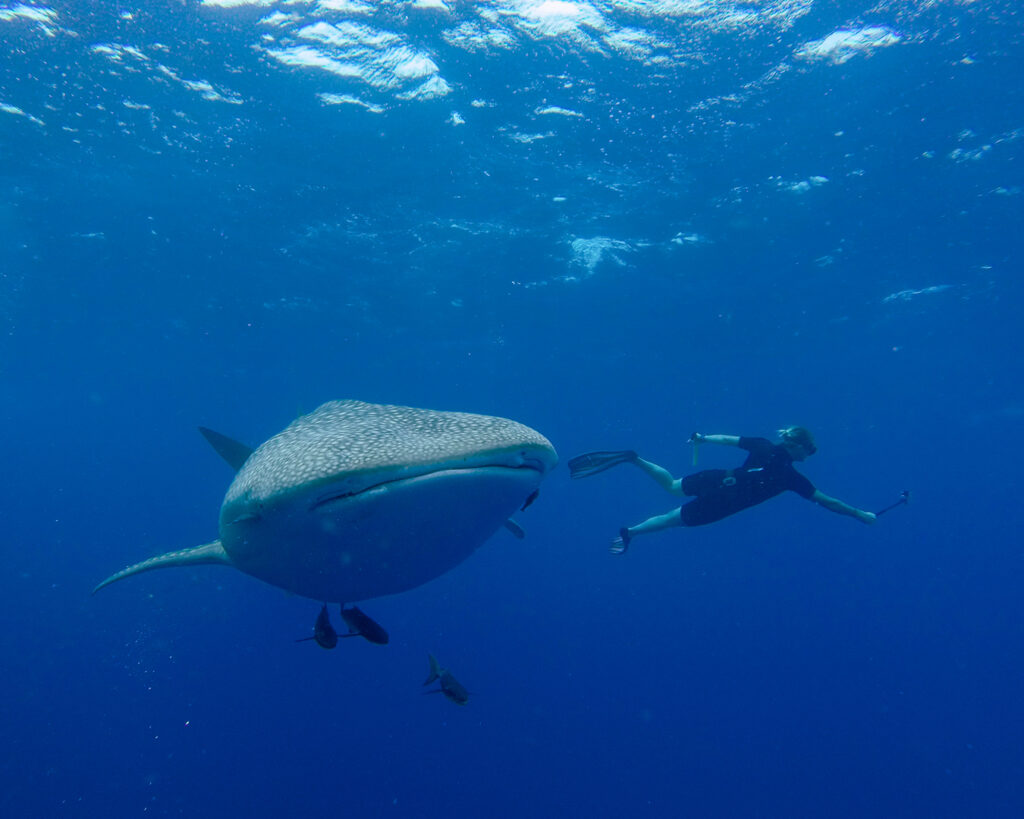 Enjoy sea temperatures of 29°C, tropical sunsets and balmy nights at sea. Visibility almost always 25m+ (82ft+), see large marine life, such as leopard shaeks, giant trevallies, sweetlips, barracuda, eagle reys, squads of manta rays, and whale sharks. Reefs here are world-class and pristine, with plenty of drops-offs, swim thoughts and walls for you to enjoy. 
Your adventure will be documented by our team. We have a mirrorless underwater camera, a drone and multiple action cameras, to create amazing memories for you, of your freediving liveaboard adventure..
No moment will be left forgotten.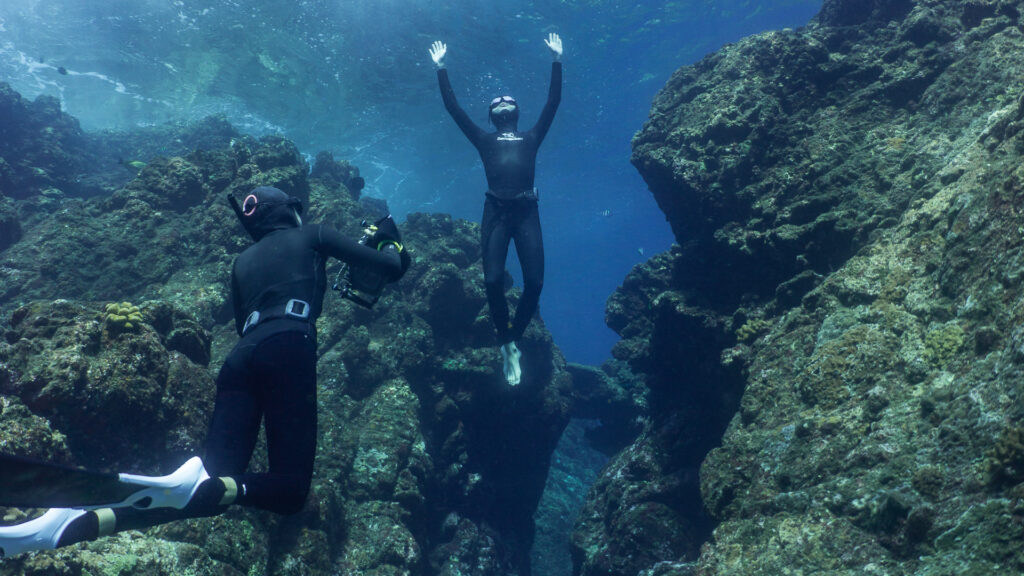 We start the day with a yoga/stretching/breathing session on the sun deck.
Coaching session in the water (1h approx)
Breakfast and a short break, followed by an exploration/fun dive session.
After lunch, a second fun dive/exploration session or coaching session on request.
The afternoon following a siesta, we will have either a freediving specific workshop, sunset yoga, or night dive.
Note: schedule may change depending on dive site access.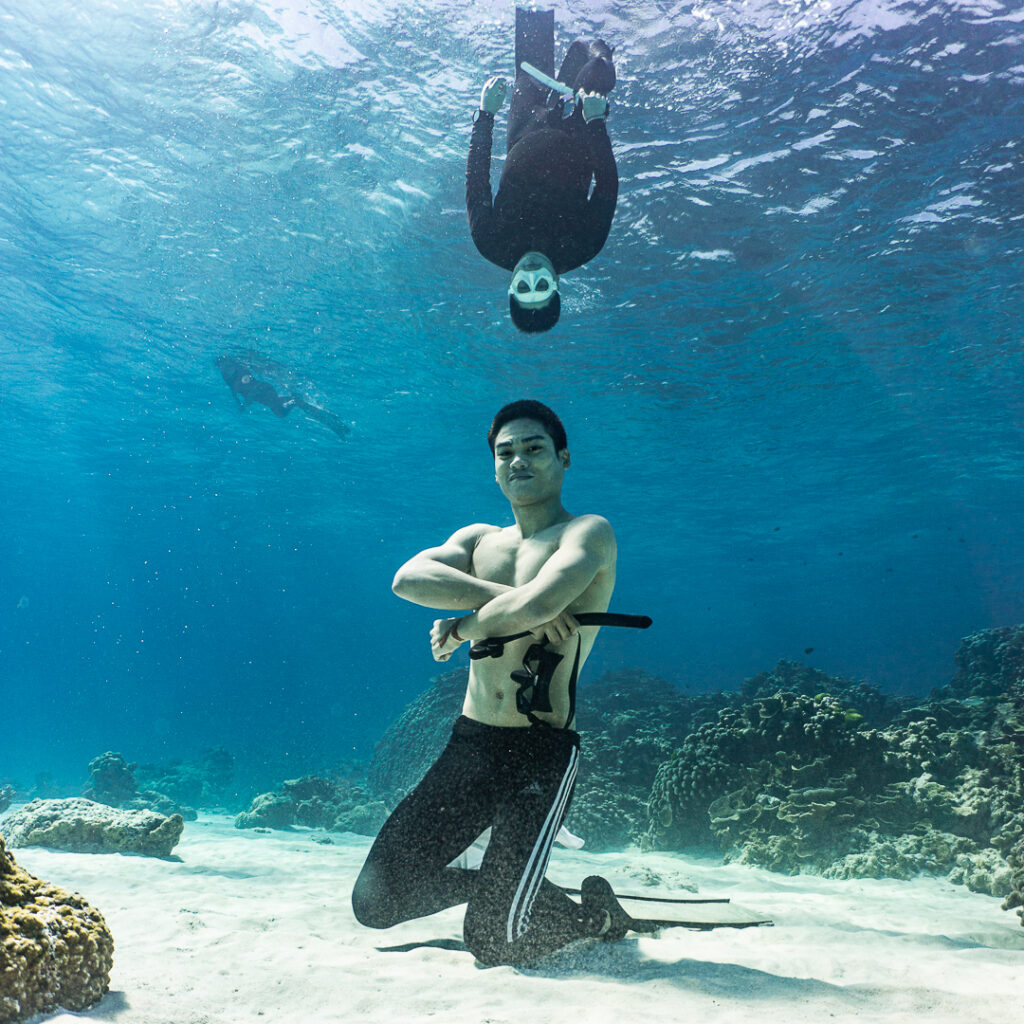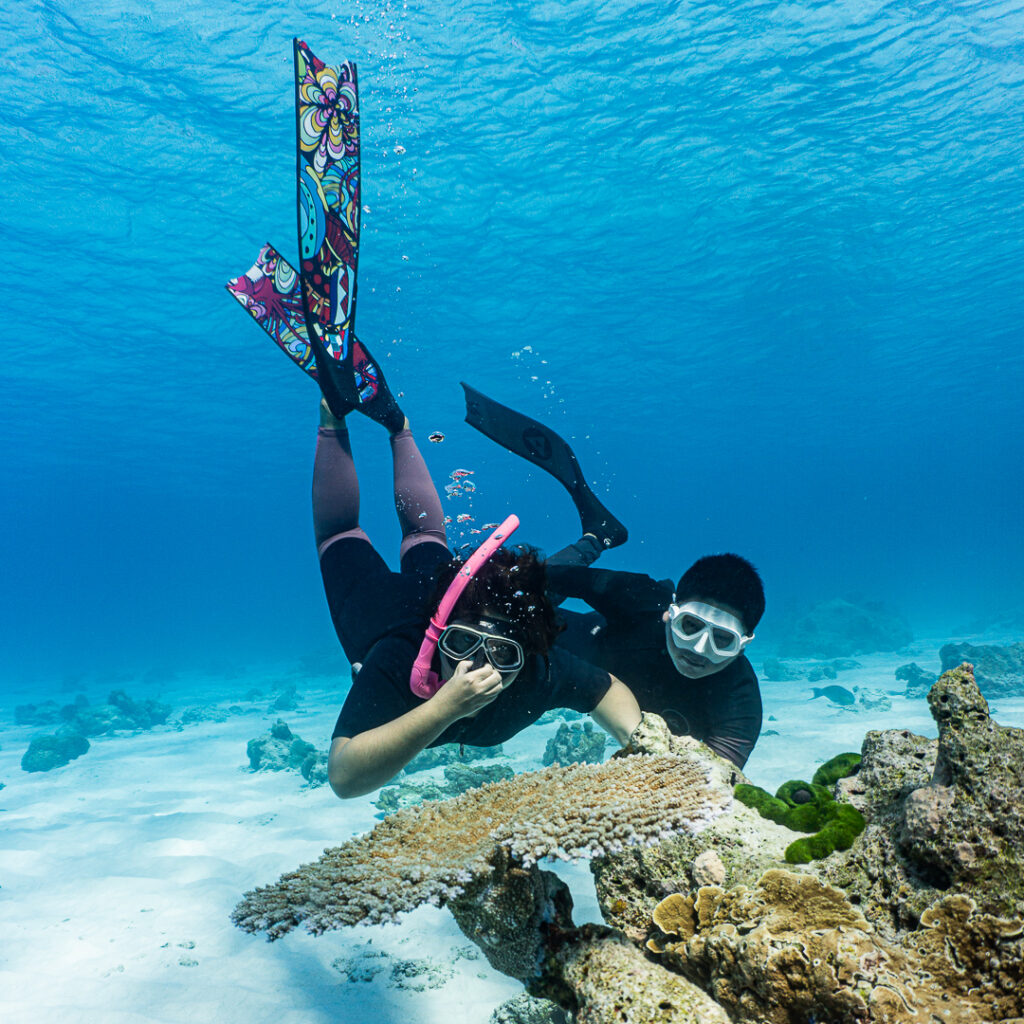 4 coaching sessions/workshops
2 lectures
9 fun-dives/ exploration sessions
2 sunset/night dives
3 relaxation/breathing sessions
In-water supervision from  professional freediving instructors and experienced guides
Freediving courses for non-freedivers
Video and photo coverage, UW photo camera, action cameras, and drone
Full board (breakfast, lunch, dinner, and soft drinks), 1 BBQ party
Beach time on the islands.
You will be under direct supervision from experienced Freediving instructors.
Every day will start with a personalized coaching session. With depths of up to 60 meters, your coach will help you to improve your freediving technique, equalization and depth progression, making your experience underwater more enjoyable. Max 4 customers per instructor. 
For non-freedivers, there is the option to take the Freediver Course at a discounted rate.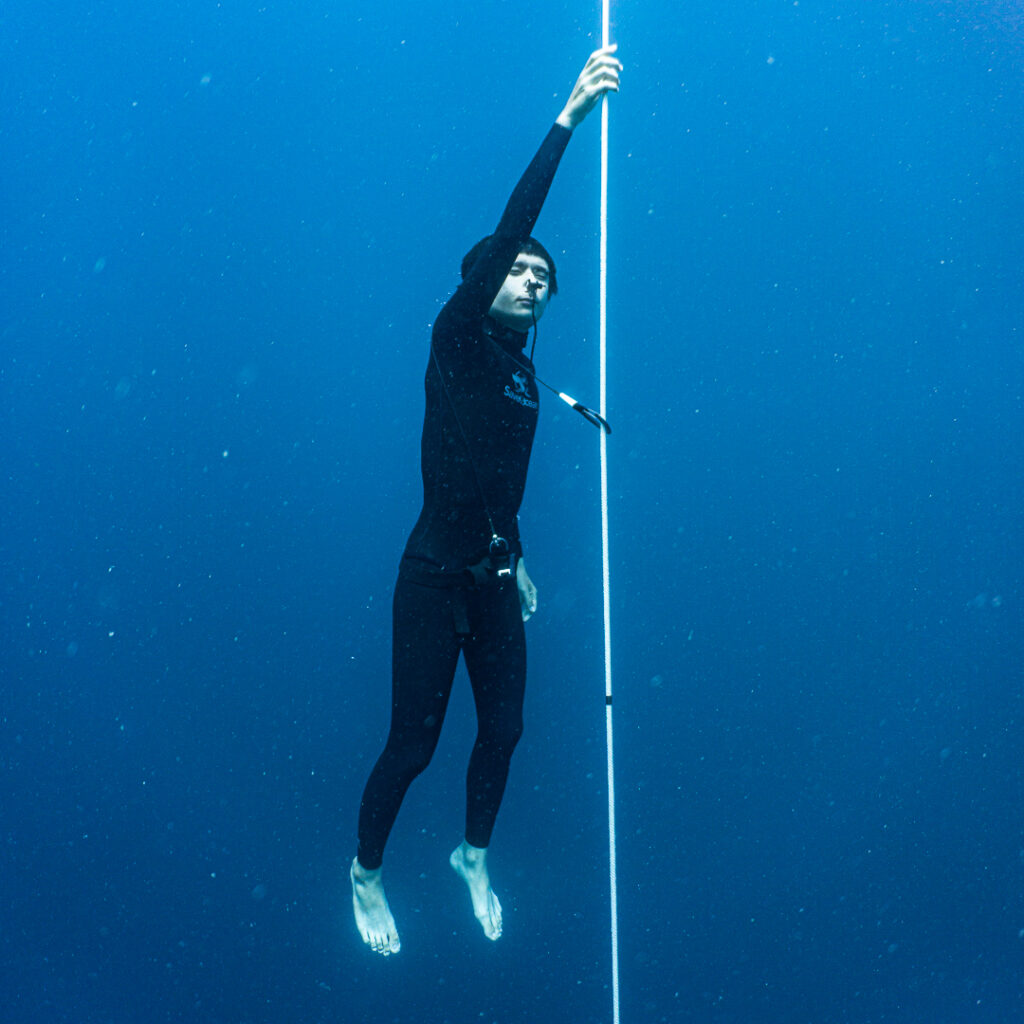 Choose your preferred option – an e-mail will be generated automatically